A good suit is an incredible investment, serving you well for everything from prom night to interviews, weddings, black tie events and more. For most, that more than justifies buying a tux or suit rather than renting. So, just where do you start when you want to buy suits online? We've done the headscratching for you, pinpointing the best retailers to buy suits online when it comes to value, discounts, designer brands, tailoring and more.
Online Suit Destination 1
Mr Porter
Best for designer style
This is our favourite site for designer men's suits online and style inspiration, combining incredible suits from Gucci, Givenchy, Burberry, Alexander McQueen and more with incredible editorial content. The site itself is slick and clean and we love the weekly online magazine, The Journal, which offers great features and style advice put together by a team of dedicated editors. If the suits are a bit pricey, we'd still recommend making this site your first port of call for style inspiration and ideas for the look you want to achieve. The email newsletter is well worth signing up for too.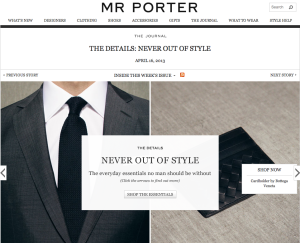 Online Suit Destination 2
I tailor
Best for personal tailoring
If you want to take control and become your own suit designer, this is the site to go to. You choose the style and fabric, input your size details and iTaylor do the rest. This is pretty exciting, but you need to allow yourself time for iTaylor to put your requirements together for you, with the average suit taking six weeks to make. iTaylor's skilled master tailors handle all of the cutting and sewing, ensuring precision and incredible fit. They also hold on to your chosen pattern, which means you can re-buy the same cut and fit again and again if you love it.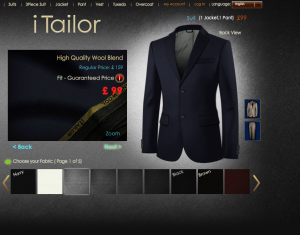 Suits Online Destination 3
ASOS
Best for trends
If you want to buy the latest trends, hot skinny suits and the kind of styles you've seen on the biggest celebs and style gurus, ASOS is the site to go to for best online suits. Not only is there a wealth of designer options, but there are also cheaper ASOS-own suits, which means there are loads of options to choose from. Targeted at fashion forward 16-34 year olds, the cut and fits are better for younger fashion buyers. We'd also recommend ASOS for cool accessories that will take you from prom and beyond – such as leather satchels, striped socks and so on. With over 13.6 million unique visitors a month, this site is growing and growing globally – and if you haven't checked it out yet, you definitely should before you order suits online.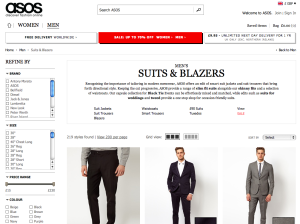 Suits Online Destination 4
Suits For Men Online
Best for Italian suits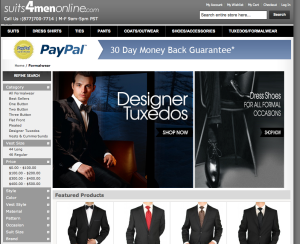 With a great variety of Italian suits at incredible prices, Suits For Men Online is well worth a look for buying your suits. Sure, the site isn't as slick as our friends at ASOS and Mr Porter, but the ethos behind Suits For Men Online, guarantees the lowest possible price for the best Italian-European quality. The company was originally set up because they were appalled that the cost of retail space etc, which meant retailers were marking suits up by as much as 800%. To counter this, Suits For Men seek the best deals for merchandise that is directly imported from manufacturers and factories in Europe. Hence, they can pass those savings on to customers. We like this ethos and we like these prices when you want to buy suits online…
Online Suit Destination 5
Best for US made
Suit Source
Yet again, this is another site that doesn't look particularly slick. But because it's an online-only retailer, it's able to pass on lots of savings to the consumer. Look beyond the outdated site design, and the suits on offer are pretty extensive and of the same quality that you'll find in most major department stores – but without the markup. All clothing is from American-owned manufacturers, plus they offer UPS shipping to guarantee quality of customer service when it comes to delivery. Another plus point for us is that Suit Source stock special suits for particularly tall or big frames, so if you come into that category and  you want a good deal on buying your suits online , check out Suit Source.
Online Suit Destination 6
J C Penney
Surprise contender
Possibly a bit of a surprise contender, but JC Penney is actually a good option to buy suits online , with some super deals at a fraction of what you would expect to spend somewhere else. There's a decent range and selection, and we particularly like the inclusion of customer reviews, which means people grade purchases out of 5 and you can see what other people thought of the quality and cut of the suits you fancy buying.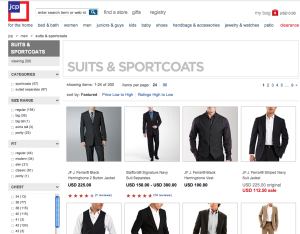 Online Suit Destination 7
Ralph Lauren
Best for fit
Ralph Lauren suits look fantastic and fit incredibly well – with Ryan Gosling being a fan. Yes, they're more expensive than most, but if you look carefully you can get a bargain (we saw a few decent ones around the $500-$1000 mark at the time of writing). What's great about all Ralph Lauren suits is that they're canvassed, as opposed to fused (which was our complaint with a fair few Hugo Boss versions). Not to get too geeky, but traditionally men's suits were constructed with a layer of horsehair canvas underneath the wool fabric shell. This holds the shape of the suit and keeps it from deforming. A fused lining, in contrast, is glued to the wool shell of the suit and often creates an unnatural stiffness in the jacket.
Online Suit Destination 8
Men's Wearhouse
Best for Low prices
For the ultimate budget to buy suits online, head to Men's Wearhouse. They have a great selection, good deals and low prices, so make a good choice if you think you aren't going to be wearing your suit that often. Quality is never going to be the same as the designer options on offer, but this is a good choice if you still want to look like you are wearing a top quality suit. In our experience, suits from Men's Wearhouse fit well and looked pretty decent. It is only in terms of the fabric that you can notice the difference. If people aren't going to be touching up your fabric, you can probably get away with it though.
Online Suit Destination 9
Tom Ford
Best for everything
Ok, we appreciate that nominating a designer who made all James Bond's suits is a bit indulgent. But it would be remiss of us not to mention Tom Ford. If he doesn't make it as the first suit you ever buy, he should definitely be on your radar as a suit for the future. Why? Well, you'll be treated to all the subtle detailing that makes a Tom Ford suit stand out. The exquisite tailoring speaks for itself and the cut helps to create a strong, V-shaped masculine silhouette. If you can afford it, go for it. Anyone who's ever tried a suit from a high-end label knows they are always more flattering than their less expensive counterparts.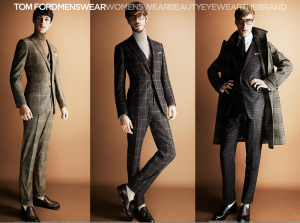 Online Suit Destination 10
S&K Suits
Best for designer suits at low prices
S&K is a brilliant site for designer suits at really decent prices. At the time of writing, we saw a whole host of great designer suits available at S&K for really palatable prices, including a dark pinstripe Calvin Klein for $270, a Ralph Lauren sports jacket with waistcoat for $270 and a Michael Kors designer suit for $250. The tuxedos are also reasonably priced, coming in at just £$199. They also have special brands for particularly tall guys.