The name may sound funny, but this review is indeed a list of the best Seersucker suits for Prom.  In fact, if a person surveyed a random group of men ranging from ages 17-30, they probably would not know what the surveyor was talking about, or would even be able to identify exactly what a seersucker suit is.  Chances are every guy in the age group has probably seen these suits before.  Odds are, they may even own one!
 So logically, the only next possible question would be, "Just what is a seersucker suit?"
HISTORY OF THE SUIT WITH THE FUNNY NAME "SEERSUCKER"
 The name "seersucker" certainly does not sound like a very stylish garment.  It doesn't sound very comfortable either (think skinny pants with extreme suction-like discomfort).  But this could not be further from the truth.  The seersucker suit has been a staple in modern men's fashion for years and its vintage presence and popularity is no surprise.  Here is the history of the seersucker suit, and how it got its name.  The name seersucker has a Hindi origin.  It is a hybrid of the words "kheer au shaker," which means milk and sugar.  The reason why the name was attached to the suit is because the suits fabric consists of all cotton.  Seersucker suits are commonly striped or checkered and have a light, crisp and slightly, stylishly wrinkled texture, which mirrored or resembled the look of milk and sugar when it is mixed together.  Makes sense now?
 This suit is also low maintenance.  The stylized wrinkled texture doesn't only add flair, but the suit does not require a lot of ironing or pressing because that is the intention and integrity of the fabric.
Now that you know the meaning, you can probably place the name with the suit.  For what's more, you can probably correctly identify the one(s) that you have in your closet.  Seersucker suits have made a refreshing comeback in 2010, and they are among the top trends in mens fashion today.  Although they were originally tagged as spring and summer suits, they have been popular in the fall months as well.  But since the weather starts to warm up around prom season, the trend extends!
Seersucker suits are known for their light, crisp and breathable texture, as well as their lighter, pastel like colors.  Similar to linen, these suits are abundantly available in whites, creams, ivories and pastels.  A seersucker suit is a welcomed trendy fixture in the prom wardrobe.  These suits are a subtle departure from traditional prom wear, and are a great alternative for the guy who isn't comfortable wearing a white tuxedo.
If you do opt to wear a seersucker suit for prom, congratulations!  You are a fashion and style risk taker, and you clearly are not afraid to step out of the box.  Just make sure you dress it up as much as possible (this is a formal event) and get clearance from your date!  She must be cool with your decision as you both are a  reflection of each other on a very  public display!
THE LIST: ANALYZING THE BEST SEERSUCKER SUITS FOR PROM
As it was mentioned earlier, Seersucker suits are lightweight and are great to wear in warmer temperatures.  They lack the weight, girth and heaviness of tuxedo's.  They also will still compliment your prom date's gown as well.  Let's look at the best choices for Prom 2013.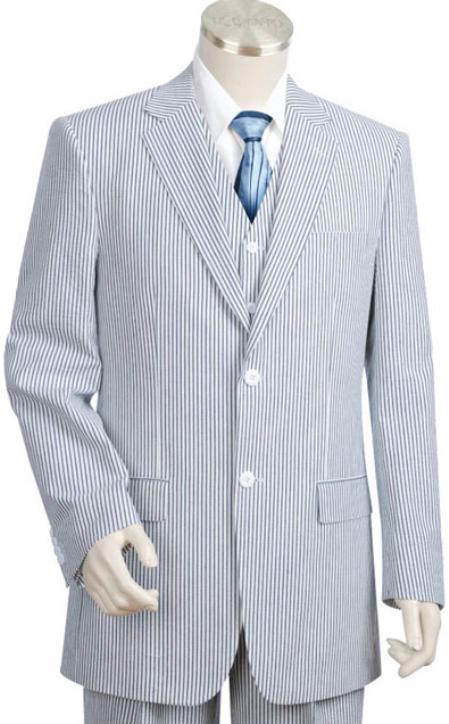 BLUE & WHITE STRIPED/ 3 PIECE SUIT
– By far this is the most common color striped combo of the Seersucker suits.  The color compliments the textured pattern perfectly more than any other variation.  The wrinkles and the stripes mesh seamlessly together, creating an endless collision.  You don't see where the wrinkles start and where the stripes end!  The vest makes the suit even dressier.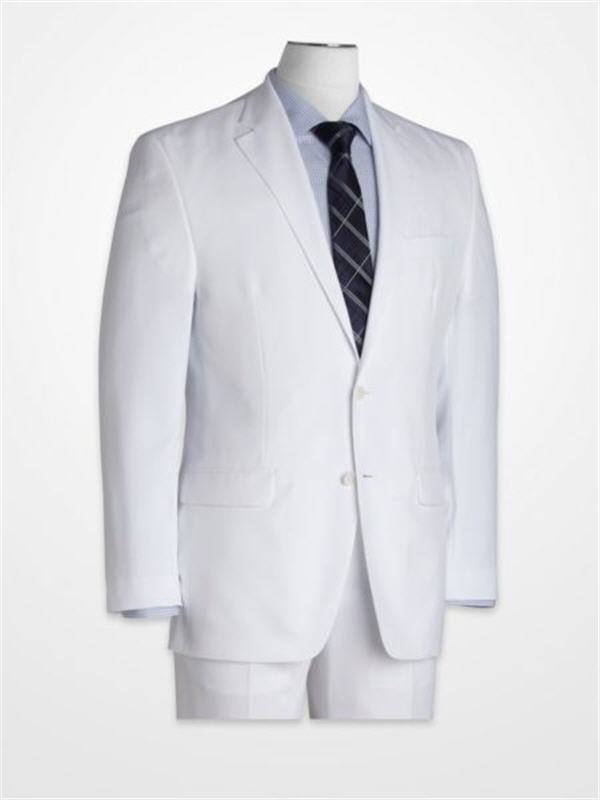 LAUREN BY RALPH LAUREN WHITE SEERSUCKER SUIT
Dreading the heat and the weight of that white tux?  Here is your answer.  Of course, Ralph Lauren brings his timeless style and detail with simplicity and comfort.  You still have to be cautious of where you sit, what you eat, lipstick etc.  This is still a white suit!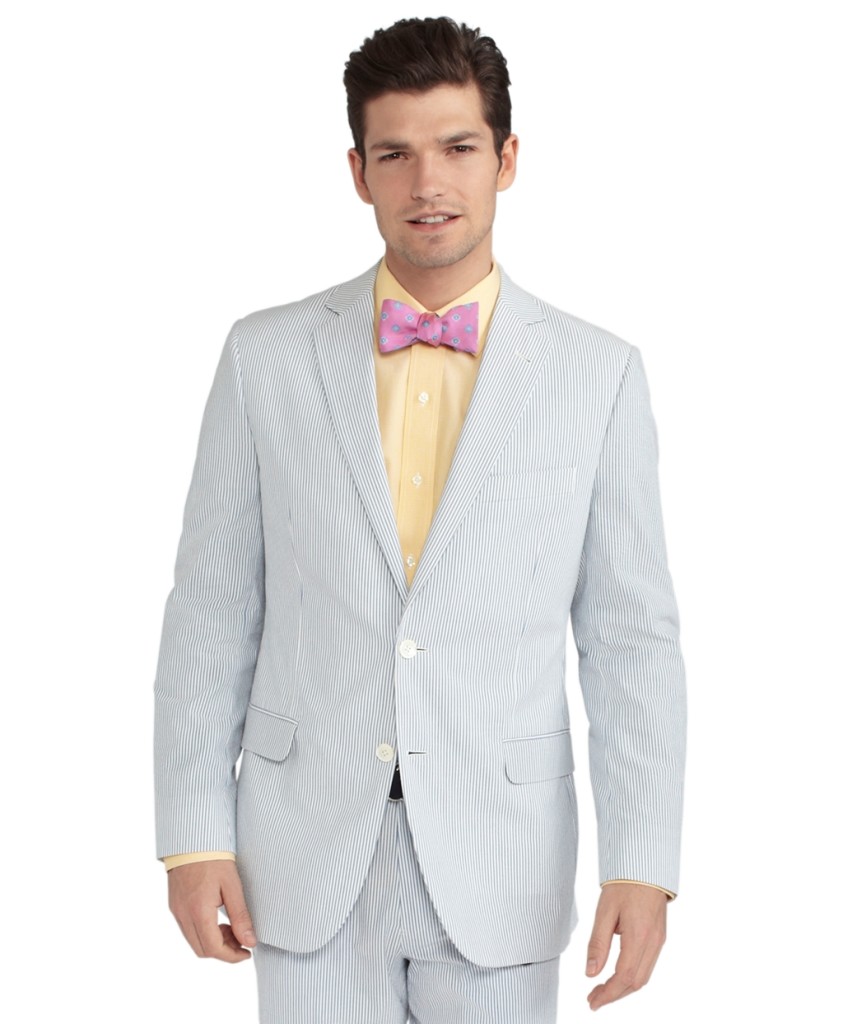 BROOKS BROTHERS SEERSUCKER FITZGERALD FIT SUIT
Brooks Brothers will never steer you wrong.  This vintage suit (in navy-ivory) is updated with streamlined details (lapels, high armholes, flat front pants and a trim fit) just enough to modernize it for today's young gentleman.  She would be ecstatic to have you on her arm with this on.
ALL THE COLORS OF THE RAINBOW
The possibilities are endless with this suit.  Have at it!  Just make sure the lady says yes!