Black Tuxedo-Style Suit Jacket
When it comes to prom-night-style for guys, tradition makes it pretty hard for you to stand out from the crowd. The classic look is a black Tuxedo-style suit jacket. The Trousers are matching black – and in the same material as the jacket. The shirt is plain white and the bow tie is black. Yawn! That's why we were so pleased to see guys at this year's Grammy Awards mixing it up with their suit selections and accessories. Here we take a look at the standout stylisters to give you inspiration for your own twist on the tux.
Singer Justin Timberlake, who has a new album out – The 20/20 Experience – gave a unique, slick and stylish twist on the black tie look with spats style shoes that reference designer Marc Jacob's Monochrome look. Not content with that, he also mixed it up with a textured effect suit jacket and an oversized black bow tie – which you'll also see on the cover of his new album. The result? Playful but cool and a definite contender for helping you make your mark with your tux on prom night.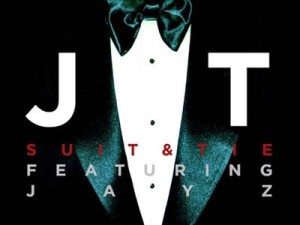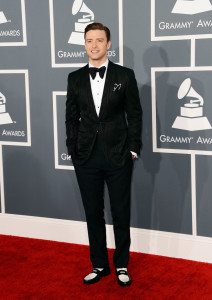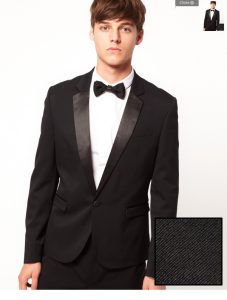 Maroon 5's lead singer Adam Levine opted for an all-black ensemble, complete with statement rock-and-roll shades. This is a twist on the prom night tux that challenges the convention of the black tie. But if you have the attitude for it, we think it's a cool way to go. We're also loving the dressed down suede brogue-style shoes.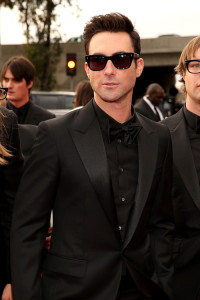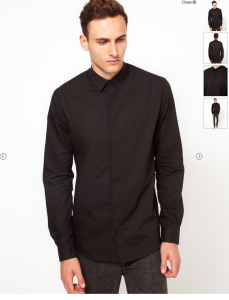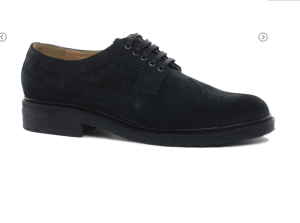 Next up is hit-maker Pharrell Williams, who also pulled out all the stops at the annual awards show by tweaking the tux to give a stamp of individuality that we applaud.
True to his experimental nature, Pharell accessorised his navy/black zebra tuxedo with a teal bowtie for a cheeky burst of colour that plays with convention. Consider this an easy twist on the tux that's simple to achieve.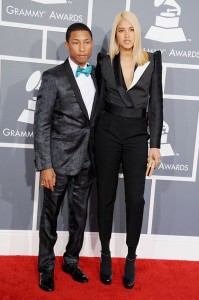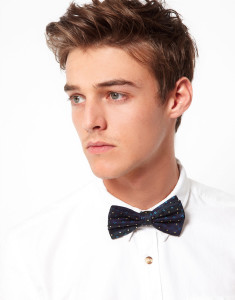 For other ways to put your own sartorial stamp on prom night, mix up the colour of your cummerbund or wear a waistcoat in a contrasting shade. You can add personality with your choice of cufflinks. And for an unusual touch of colour, add a boutonniere (that's a flower in your suit jacket buttonhole to you and me).