Okay guys, you have made it to Prom. Consider yourself lucky. Although prom is an event that has different meanings for different people, it is a special event. Why? Well, your high school prom is a once-in-a-lifetime event. So regardless to however you feel about it, you should at least make an attempt to experience it and all of its regalia. It will not be as exciting if it winds up on your bucket list, and you will not enjoy yourself if you do not look your best either. When you look good, you feel good. For guys who are not used to dressing up, wearing a tuxedo or a suit may feel awkward. The only thing worse than wearing formal wear for several hours is wearing ill-fitting formal wear for several hours! If you are one to follow the trends of men's dress clothing, you will know that thin is in. Yes young gentlemen, skinny suits. We are talking about skinny suits!
When skinny anything is mentioned in the same sentence as menswear, most guys start to cringe and are appalled at the thought of wearing something that looks and feels as uncomfortable as it sounds. For the most part, this is totally true. Most guys cannot handle being restricted in certain areas and wearing a two or three piece garment such as a slim-fit suit, is a sure way to ruin a good mood!
Skinny Suits – What's in a Name?
When you hear the name skinny suit, you think about high water pants as tight as rubber bands. Maybe an image of you raising your arms and the jacket ends up over your head, and your entire shirt sleeve comes through your suit jacket sleeve come to mind. Or the worst case scenario, you split your pants getting your dance on at prom.
Well these things could happen at the worst prom ever, while wearing the worst skinny suit ever. But for a moment, let's not focus on the name, skinny suit. Let's re-phrase it to what it really should look like. Slim-fit suit…and even better than that, a fitted suit. In all actuality, that is what a skinny suit is and should be.
Here is how and why.
Fitted suits are meant to compliment the guy. Fitted suits are contemporary and fashion forward. They are intended to present a very clean and tailored silhouette. Fitted suits should complement your frame, make you GQ ready and maybe win prom king! Gone are the days when a bulky, overlapping suit represented menswear and masculinity.
Here is how you wear the skinny suit without letting the suit wear you. In the end, everything should appear proportionate, symmetrical and streamlined for the best for you.
Cardinal Rule:  Know Thy Body Type
Knowing your body type will determine how well (or not) the fitted suit will look on you. Although it should be blatant that a skinny suit looks like a totally different outfit on a football player than it does on a guy with a swimmer's build. But sometimes the guidelines get blurred, especially now when designers and manufacturers are making suits look like one and the same. However, skinny suits are not paint-by numbers or one-size-fits-all.
The Guy with a Little Extra
Finding a slim-fit suit for the husky, stocky guy may seem like a big feat, but all it takes is a little observation. This guy's optimum goal is to find a suit that is slenderizing, but it has to be a suit that flatters and doesn't slander. Hey big guy, this is what you need to do.
Look for lightweight suits.
The thinner the material, the better. Suits made of weightier material will only add to more to your frame and will defeat the purpose of the suit. Cotton is not an option and polyester would be a joke. Look for wools of a softer texture. Merino wool is a great choice.
The Darker the Suit, the Better for You
You know how they say black makes you look slimmer? Believe it. Darker colors will convincingly carry the illusion of a slim style and effectively cover those pesky problem areas. Darker colors also have an elegant and classy feel to them and prom is the place elegance and class.
Take Notes
Be very particular on your particulars. Wear a 2 button jacket. Anything else that would close you up and draw attention away from your waistline, or the opening of the jacket will add weight to you. Also, look for a jacket with one rear vent. Side vents are not your friend, especially if you have ample body features like love handles, a wide back or a noticeable rear end. Incidentally, be sure that the jacket is long enough to cover you in the back. Keep in mind that slim-fit jackets are cut short.  Wear slim fit suits in solid colors, or vertical stripes (they "stretch "the frame).
Skinny Suits – Do's for Slim & Tall Dudes
Although it may seem like an oxymoron, there are rules that slim guys must follow for fitted suits as well. The guidelines for this guy are almost the exact opposite than the heavier guy's list.
Instead of dodging heavier fabrics, you should gravitate toward them. Heavier fabrics will add girth to your frame and will give the illusion that you are larger than you actually are.
Light over Darkness
Whereas darker colors slim down the heavier guy, they drown the skinny guy. Wearing light solid colors will also add to the illusion that there is much more to your frame than meets the eye.
Go Vent-less
Assuming (no pun intended) that some slim guys have less junk in the trunk than a beefier guy; vents in your jacket will work against you in the worst way. Instead, you should opt out of wearing suits with double splits. Try a jacket with a rear vent or no vents at all.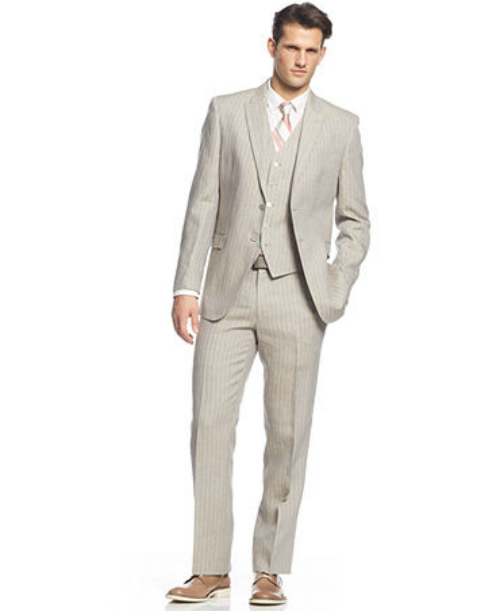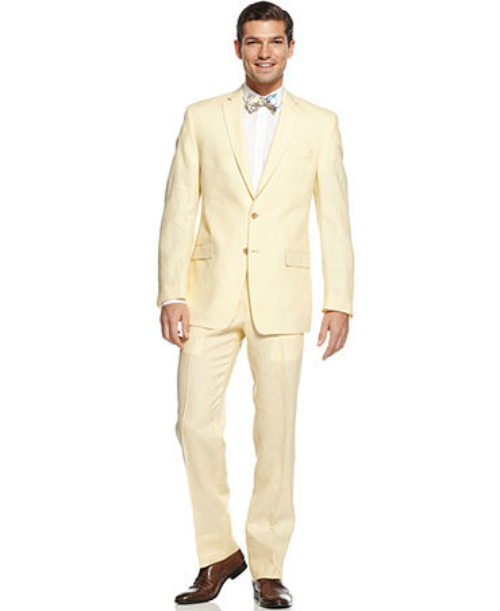 The Long and the Short of it – Rules for Short Guys
The main thing about short guys is that they cannot let the suit take over. An ill-fitting suit on a short guy can be very overwhelming, whether it is overly fitted (tight) or over-relaxed and baggy. Super skinny suits for men or overly loose suits are out.  Follow these rules and you will look like a million bucks without a Napoleon complex.
Look Solid in Solids
A busy patterned suit would not give off any distinction as to where your jacket ends and where your pants begin. Who wants to look like they are dressed in a designer onesie? Stick to solid colors in any variation and any fabric of your choice.
Vertical Hold
As it was suggested for the stocky guy, vertical stripes stretch and elongate the torso and overall frame, giving the illusion that you are what you are not. So choose vertical stripes when listening to the voice of your inner basketball player.
Less is More
Although a 2-button jacket is the standard, and perfectly fine for the short guy, a single button is more than enough. This look allows more of the jacket and shirt (or vest if it is a 3-piece suit), giving more the torso more length. Make sure that the jacket sports peak lapels for the same lengthening effect. Shorties should intentionally shop for size Short jackets with shorter sleeves. Shorter sleeves that show more cuffs make the arms look longer.
Vent it Out
Double vents on a slim jacket are not only stylish, but they are ideal for guys with a diminutive build. Simply put, slim fit suits with double vents make you look taller – just like everything else that was suggested.
Don't Wear Your Dad's Pants
By all means, please choose pants with a low rise. Do not choose pants with a high rise. Mom jeans or dad jeans are not allowed. Slim fit coats are cut short, with natural waistlines, so there is no reason for you to create one that ends on your chest! For a more proportionate look, low rise pants will draw the eye to the torso, by elongating it and making you appear taller.
Skinny fit suits for men give every guy a chance to look his most well-tailored best. If you follow these guidelines, you will be prom ready, and you will have everyone asking you about your current workout plan.