Any man would look handsome and dashing wearing an Armani Tuxedo. The brand had been synonymous to elegance since it was first introduced in the 70s. Down to this day, Armani's signature style in clothing and tuxedos remains to be a preferred choice among male fashionistas and celebrities alike.  On this post, we'll take a closer look at a few Armani Tuxedos, but first let's talk about the two different types of suits.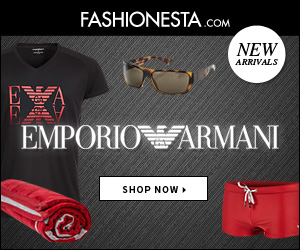 Single-Breasted or Double-Breasted?
For black-tie occasions, you can never go wrong with an Armani Tuxedo. However, apart from just picking a high quality brand of tuxedo, it's important to know the style that's best for your body type.
A tuxedo can either be single-breasted or double-breasted. The single-breasted tux has a single column of buttons- usually with two or three buttons.
Sometimes, a single-breasted suit may have up to four buttons- all lined-up in a row. The suit can be worn buttoned or left unbuttoned. If you want to wear your coat buttoned, don't forget that the last button at the bottom should always be left undone.
On the other hand, the double-breasted tux has a flap that crosses over the front, and buttoned on the right side of the jacket. This kind of suit should always be worn buttoned. Furthermore, because of its design, the double-breasted tuxedo would naturally appear more bulky. Hence, the double-breasted tuxedo is often recommended for taller men.
A Collection of Armani Tuxedos
Fortunately, Armani offers a wide variety of choices when it comes to formal suits.  Here are some of the latest tuxedos from the Emporio Armani Formal Wear collection: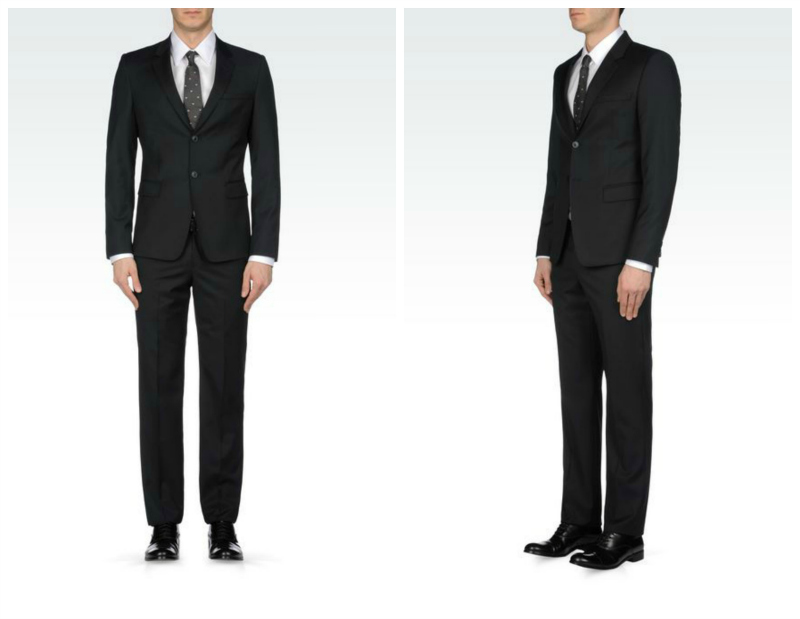 Here's a slim fit, single-breasted suit made out of pure virgin wool with tone on tone micro dot design.   It has two flap pockets and one breast pocket.  A tuxedo with a lapel collar is a classic style that works wonderful for all body types and men of all ages.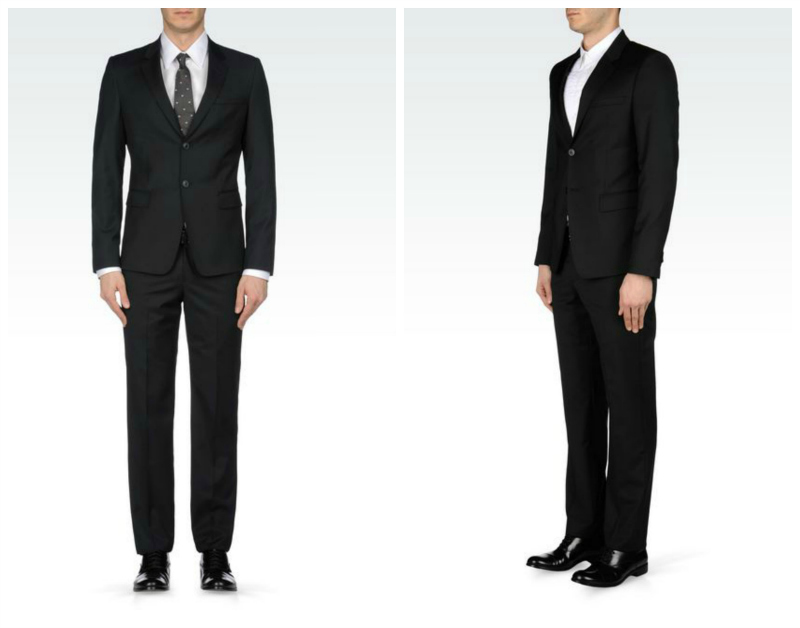 Next, is a slim-fit suit in pinstripe, made out of pure woven wool. It's also a single-breasted jacket so it will look fabulous on different body types. The jacket has a lapel collar, two flap pockets and one breast pocket, and can be worn by both young and old.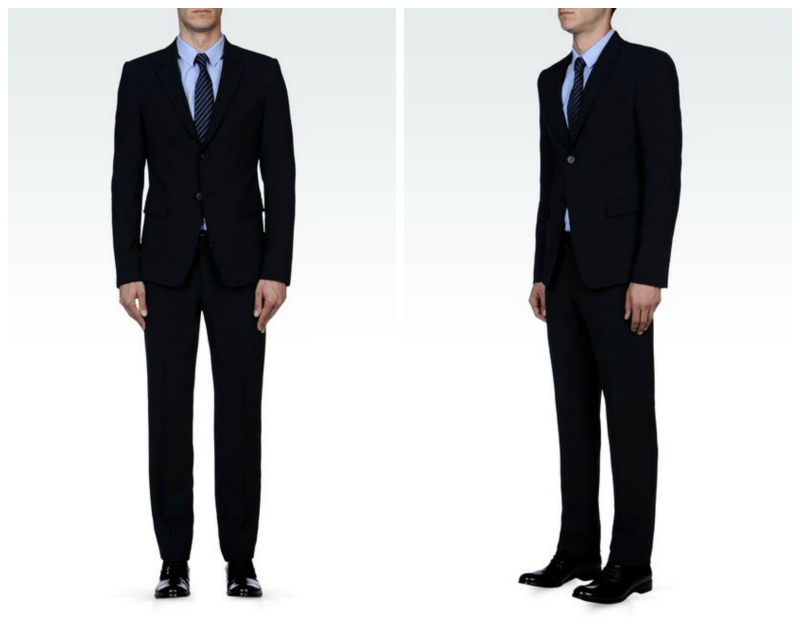 This Armani tux is in solid color. It is made out of 96% virgin wool so it's cool and comfortable to the skin. This suit has three pockets and a slit at the rear. It has a lapel collar which gives it a modern appeal. Tuxedos with lapel collars are stylish and would look great for gentlemen of all ages.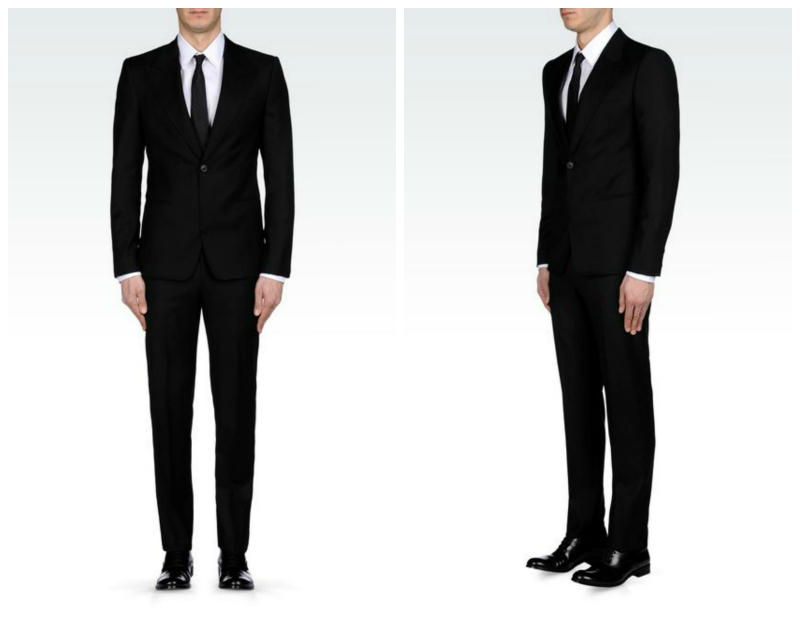 Next, we have the single-breasted suit with peak lapels. Note that this Armani tuxedo has a slim-fit and only one button. One-button suits are ideal for men who are not afraid to be different and know how to carry a tux with an air of confidence.
Since the coat has only a single button, a button that is placed too low will expose more of the upper body and can draw attention to the stomach area. If you're slightly worried about a "beer belly", make sure that the button is not too low like this one-button Armani suit. As you can see, it has the button at just the right place, and looks absolutely chic buttoned.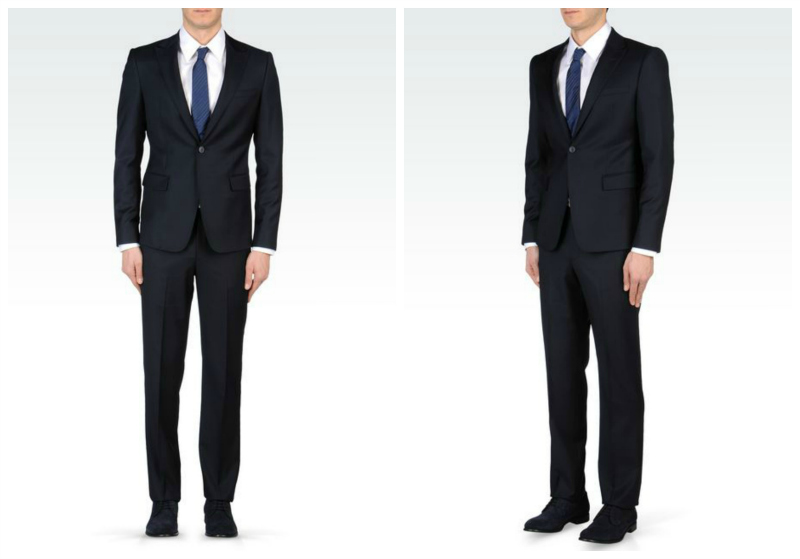 Lastly, we have a single-breasted suit with peaked lapels. This modern coat is made out of worsted wool, has two flap pockets, and a breast pocket. Again, there's only one button on this Armani tux but it's placed in just the right place for that stylish gentleman look.
Armani Tuxedo – A Wise Choice
A single-breasted tuxedo is a classic and is not difficult to match or wear. Its simplicity only adds more to its sophistication. This style is ideal for the summer months as well, especially suits that are made out of 100% wool.
When it comes to suit collars, the peak or pointed lapel is always the safest style to choose for formal events. In addition, a peak lapel creates a more defined V-shaped neckline which helps give the illusion of a lengthier, broader upper body.
Notice that most of the Armani Tuxedo pieces featured above are single-breasted and have peak lapels. These kinds of tuxedos are wise investments because they never go out of style and are bound to stay trendy for even more years to come.