Just when it seemed that 2014 is just getting underway, we look out of our windows to see that the seasons are finally changing. When the snow melted away, spring came and so did all the things related to it. Aside from April's rain showers and warmer temperatures, teenagers everywhere are getting ready for one of the biggest landmarks of their lives – prom!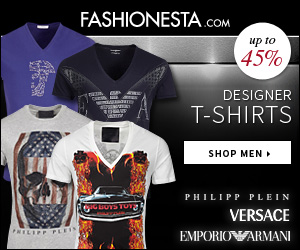 There is much preparation that goes into this event. Prom is often regarded as a teen's first venture into young adulthood and ironing out all of the details is a pretty big deal. One of the biggest factors for prom goers is, "What am I going to wear? " Just as it is with weddings and brides, most of the hoopla and fuss is made over the girl. Her dress, her hair, her shoes, her makeup…blah, blah, blah.
However, guys you are more than an accessory and you are more than a prop. This day is just as important to you and just like her, you want to look your best. Yet there is a slight difference between guys and girls when it comes to getting ready for things like this. Guys like to operate by this mantra- the smaller the fuss, the better! Shopping is often one of those things. Guys are pretty cut and dry when it comes to shopping. Guys know what they want when they see it. They purchase it and they're on their way. They like it even better when they can get more.
Purchasing a prom suit is a great alternative to renting a tuxedo. It is easy to find bargains on suits and sometimes, they are less expensive than tuxedo rentals. The best perk is that you get to keep your prom suit, and wear it more than once! Which is why the ultimate option is to buy suits online!
Guys can find their ideal prom suit online and they can also browse the latest trends from their favorite stores, designers and specialty shops. Shopping online is very informative and can give shoppers tons of details including pricing, availability and tips and suggestions on how create the best look for you. Although online shopping is ridiculously convenient, there are some guidelines you must adhere to before choosing your suit.
1. Always shop from a reputable site. There are hits and misses when shopping online. You want to make sure that the service is guaranteed to deliver your purchase! Many people have been ripped off online, and there is an abundance of websites who either have subpar merchandise, or mediocre customer service. An even worse fate could be that the business does not even exist. Always look at the reviews left by customers and research the company before making a purchase. Talk with a representative to settle any concerns you may have.
2. Please know your measurements and clothing sizes before you buy suits online. Remember you are not present to physically try on anything.
3. Do not settle with the first prom suit that you find. The Internet is crawling with suits listed at competitive prices. You will be kicking yourself all the way to prom once you find out that the prom suit you bought was on sale for half off on a competitor's site. Ebay and Amazon.com are great sources to buy suits online, for bargains on high-end tailored suits.
4. Search websites for specials or coupons to stores of your choice. Sites like Groupon.com and others are loaded with deals that can save you money on your purchase as well as shipping costs.
Let's take a look at some of the best prom suits and looks this season.
Single, Single, Double – The Double Breasted Suit
The cardinal rule of fashion is that everything old is new again. Hence the return of the double breasted suit. To successfully own this look, knowing your body type is key. Search for suits that are cut short and tailored at the waist. Look for six-buttoned suits with peak lapels. This 6 Button Double Breasted Suit looks best in light colors, such as gray, light blue, and white.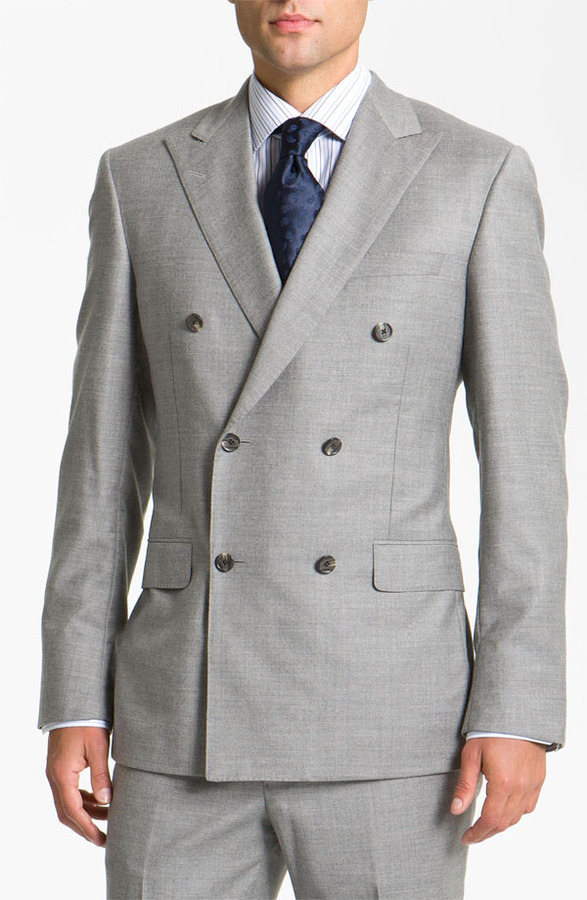 Plaid is not Plain – Checkmate!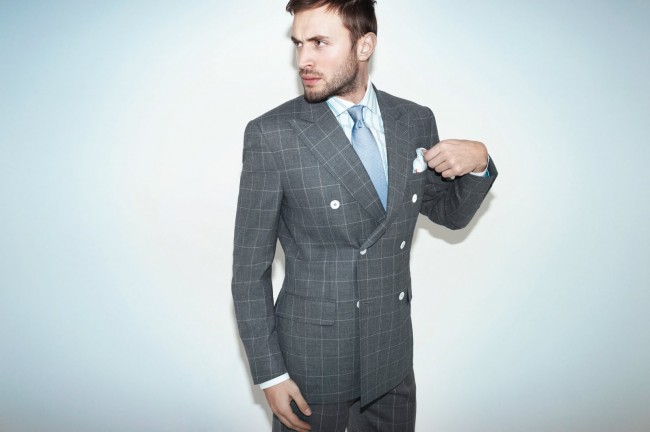 Again, an old trend is the latest craze. Patterns are both strong and subtle are a standout presence at menswear stores everywhere. Pinstripes can't have all the fun! Make sure that the suit is the only piece that stands out. Wear a solid shirt and solid accessories.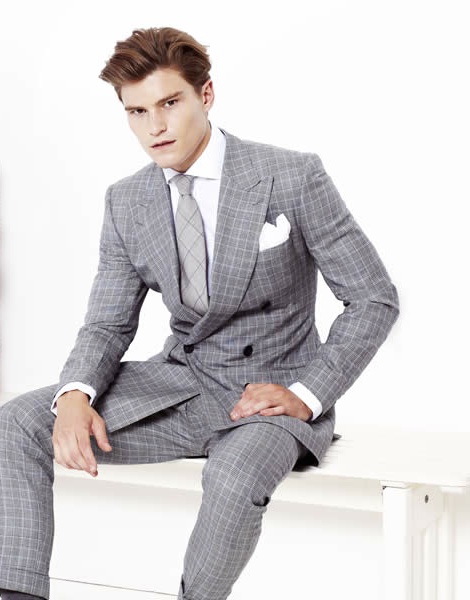 Blue is the Hue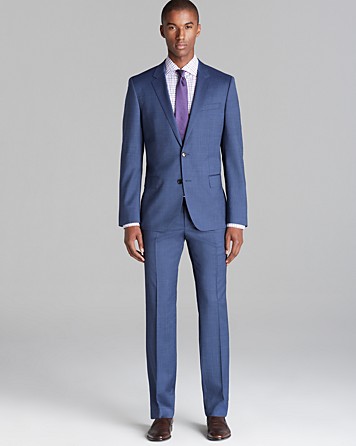 Blues in all shades is the color for suits this season. Ever versatile, this color is undeniably masculine and it is colorful enough to convey style without compromise. Blue is a great complementary color when coordinating with your date.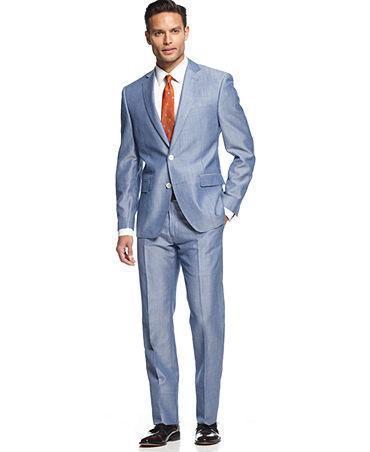 Black & White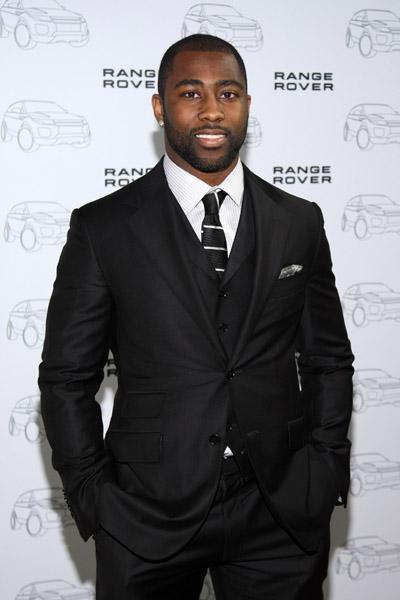 Classic, timeless and dependable, nothing says formal like a black and white suit. You will be well-dressed and neutral. You will match with your date in spite of what color she wants to wear. Both top and bottom pieces are interchangeable.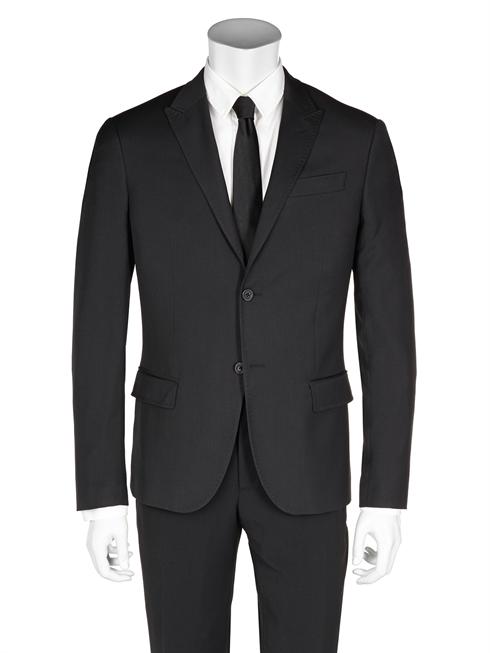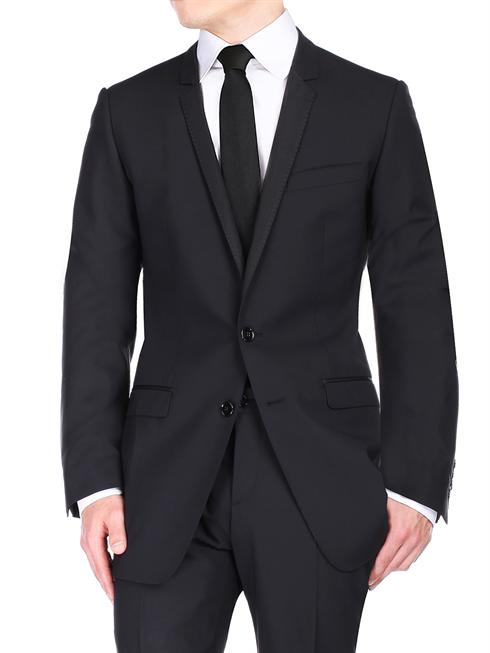 White as Snow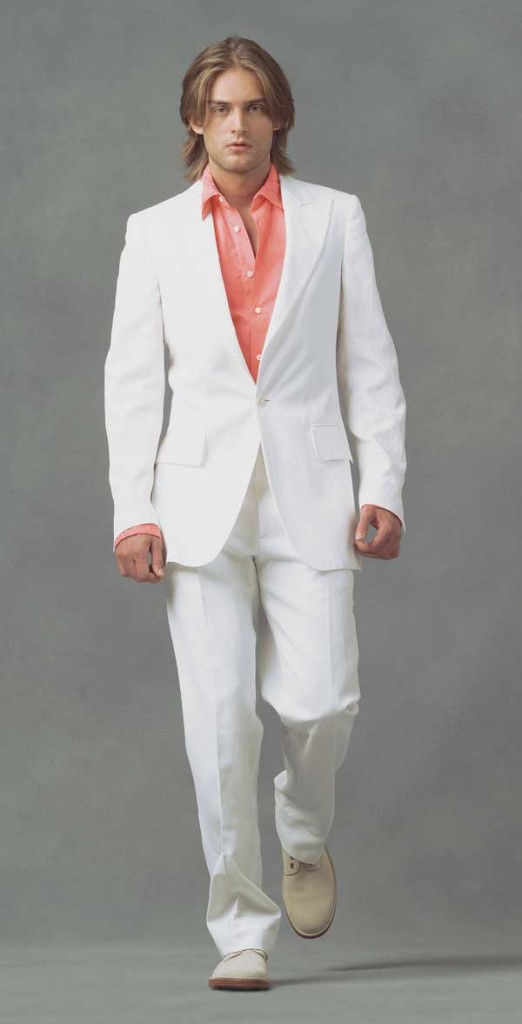 The direct opposite of black is all white. Although no one wants to see it physically (we've had enough from the brutal winter) no one would mind if you looked as stunning as fresh fallen snow. Again, you can mix and match with black for extra flair.
The Path Less Taken – Patterned Jackets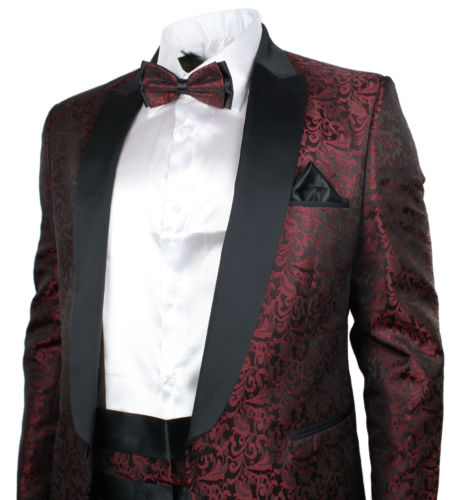 Ripping the runway this season are several colorful and bizarre suits and jackets featuring floral, paisley and abstract patterns on them. These patterned prom tuxedos are not for the faint of heart. For the guy who likes to make a statement out of the box, these are for you.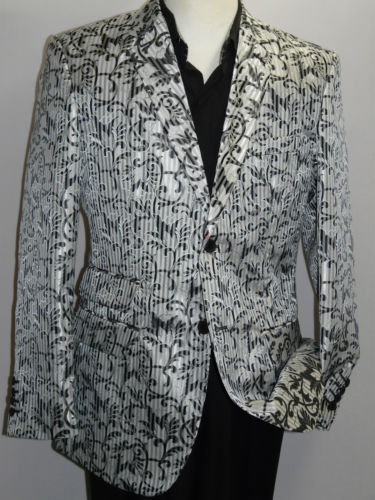 The Grey Area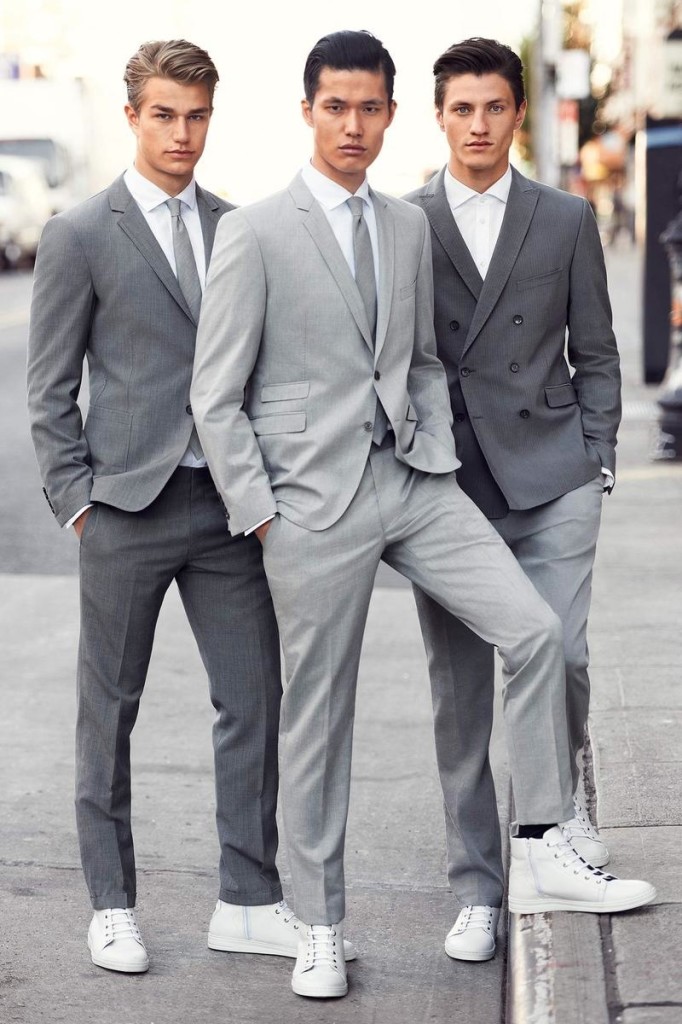 A gray or grey suit should be a staple in every man's wardrobe. It may be basic, but it goes so far. Grey is the perfect medium between black and white.  Grey prom suits sleekly declares a distinguished gentleman.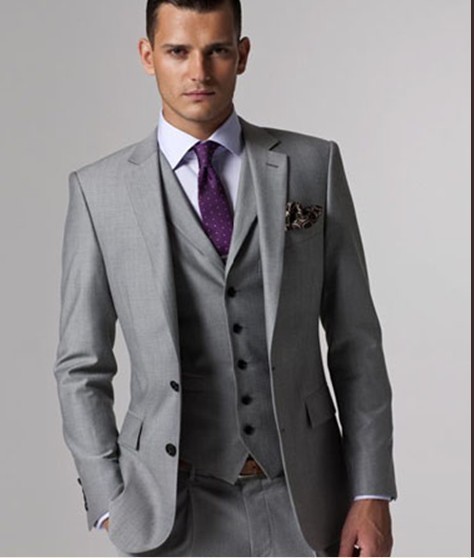 Second Skin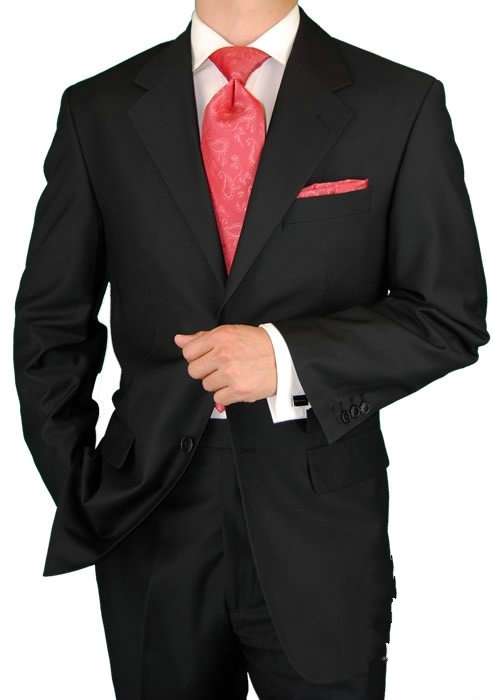 Designers of the season's suits are cognizant of the elements. These custom prom suits are made with soft, luxury fabrics- none of that heavy stuff. Take this one for a spin on the dance floor.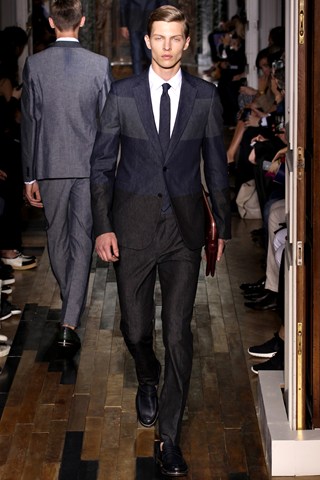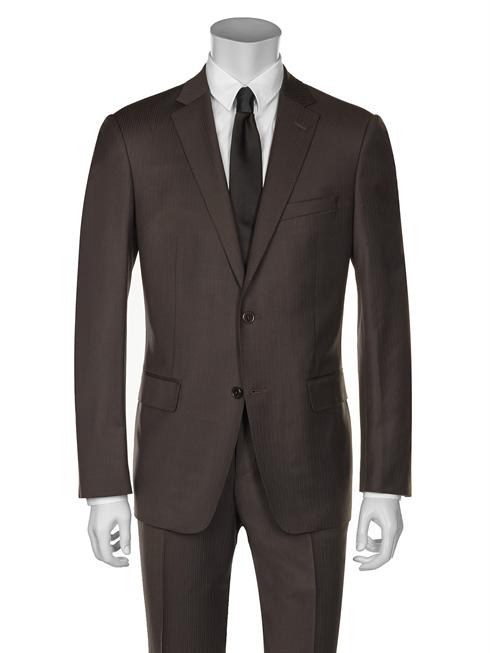 Around the Block
Block stripes are the new stripes for the season. The paring of the stripes on suits is a bold step in the right direction. The guy who dons this for prom suit has won the ballot!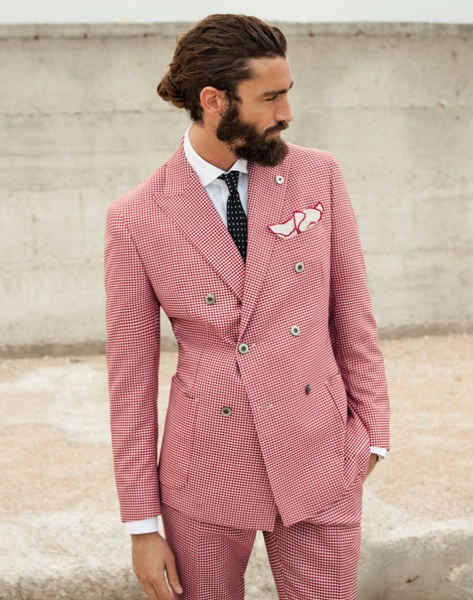 Color me Bad!
Color is always in for spring and summer and it is a big deal. Color is the very embodiment of the season, and there is no shortage of it in the latest suit styles.

With these selections of prom suits online, you have your pick of creating a very stylish and handsome suit for your big night.  Just make sure that your date approves.