The Best Double Breasted Suits
Single breasted suits get all of the attention these days, but this list is all about the best double breasted suits for prom. Yes! You can wear one to prom! In days past, the truly dapper gentleman wore this suit for extra swagger.  Double breasted suits were all the rage. They were bold and masculine and they really made a statement. It was the "Boss" suit. Since then they have been updated, dressed up, reconstructed and even bedazzled. It seemed that they were even forgotten and understandably so. As trends changed, so did the relevance of the double breasted suits.  It simply looked dated and it seemed to only be flattering on certain men (size and maturity as the determining factors).  But lo and behold the double breasted suit is back, just in time for prom!
There are a few factors to consider before choosing  double breasted suits (DB Suit). After all, we are talking about the best double breasted suits for prom here. A double breasted jacket can add the illusion of extra weight because of its extra features, and if you happen to land a spot on the Royal prom court, you don't want to look as if you are wearing football armor underneath your jacket! A double-breasted jacket can be overwhelming if it is not paired with the proper supporting garments (pants, shirt). You have to wear the double breasted jacket; do not let it wear you!
CALM DOWN, IT'S ONLY A SUIT
Pulling off a double breasted suit may sound like it's a lot to handle, but it really is not.Once the guidelines and suggestions are considered, it really is a great look! It is a look that will distinguish you from all of the other guys. If you follow these steps, you will avoid looking like the Hilton hotel bellhop.
To pull this off like the gents from back in the day, you should:
Choose a timeless color.The cut of this jacket works best with a color that could be worn throughout all seasons.
Know your form man!  These Men's Double Breasted Suits complement the guy with the medium or larger build easily. But that doesn't mean smaller framed men are exempt from rocking this look.  Since this is your prom, you are getting a tailor made fitting anyway.By getting accurate measurements, the tailor will know which adjustments will make you prom ready for sure.
The pleats have it!  If the suit does not have them, move on.Flat fronts are all the rage but they are not for a double breasted suit. The pants should also be cuffed for a polished look.Remember that football armor reference? This jacket is too busy for flat front pants.The pleats will balance the suit out proportionately.
DETAILS: If you have a date, choose a solid colored suit over one with patterns.You don't want to clash with your date, as her dress would probably be more detailed than your suit will ever be.You do not want to be known the night's "busiest couple."
Accessorize with the following: Tie (duh). Dress shirt w/ French cuffs and widespread collar.  Pocket square and cufflinks.
Choose a jacket with six buttons. Make sure that the jacket does not surpass the crotch. Smaller men should focus on having the waist taken in so that the chest and shoulders are proportioned to the jacket.
THE BEST DOUBLE BREASTED SUITS FOR PROM 2013 
Pay attention!  You don't have to rack your brain for ideas or search the racks too long for these styles. These trends have paved the way for the way for the return of a classic. (DB Suit)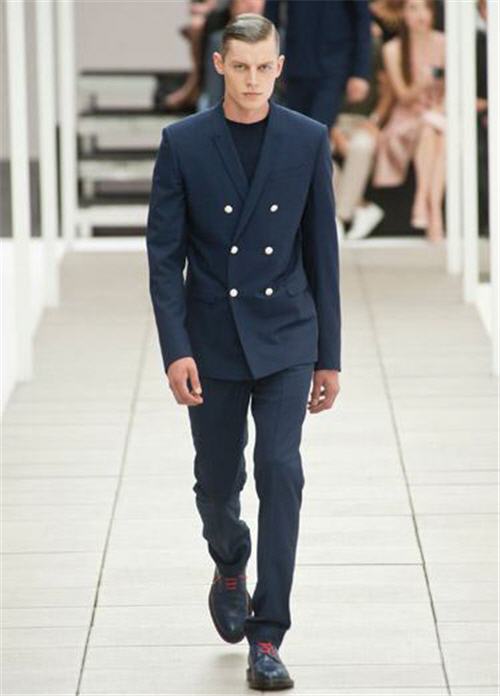 Look at this classic blazer double breasted suit with vintage gold buttons.  Notice the buttons.  This would be great for a guy who plans on going to the big party without a date. This look is all about individual expression.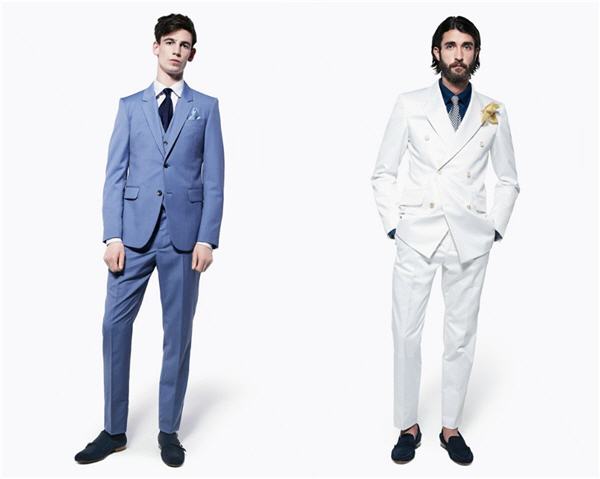 Pay attention to the guy on the right. The guy on the left looks great too, but we're not worried about him, he doesn't have on a double breasted suit. The guy on the right is totally ready for his big night.  He also opted to take on the trend of going sockless. He even has his boutonniere on. FRESH!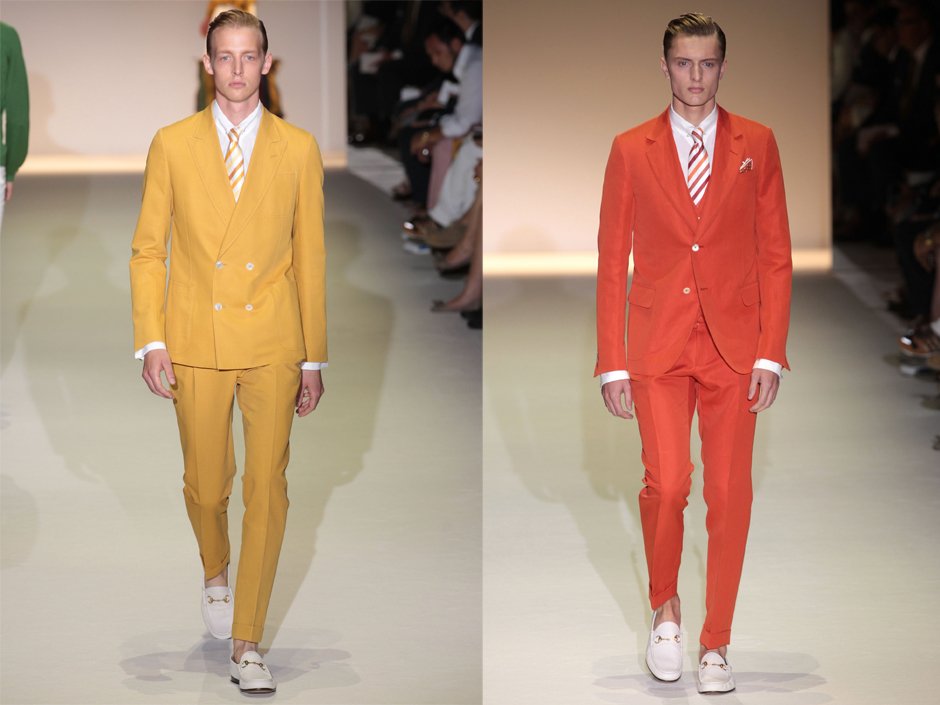 Pay attention to the guy on the left this time. This DB suit is celebrating the trend of bright and vivid color. Are you brave enough to follow along with him?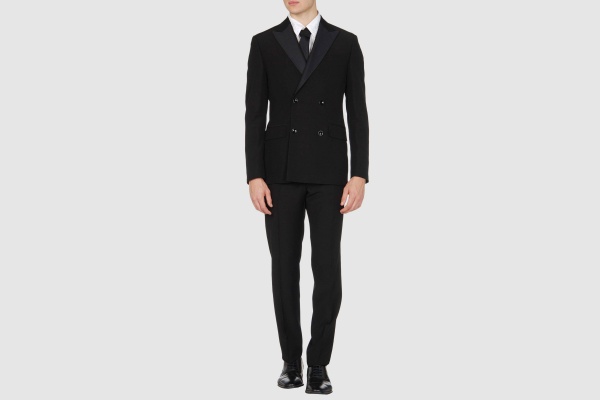 This suit is the perfect alternative to a tuxedo. Can you tell the difference?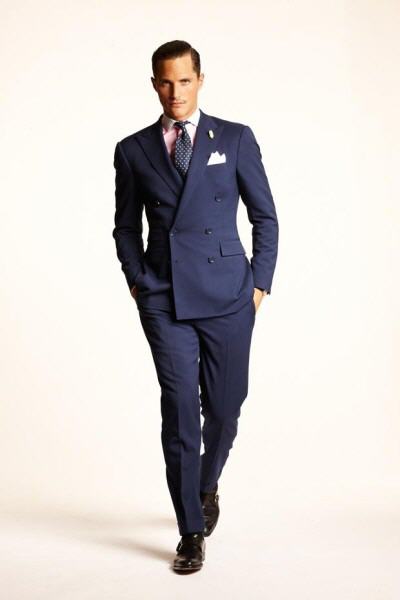 This ridiculously suave offering is from Ralph Lauren's 2013 collection. Is there anything else to say?  Didn't think so…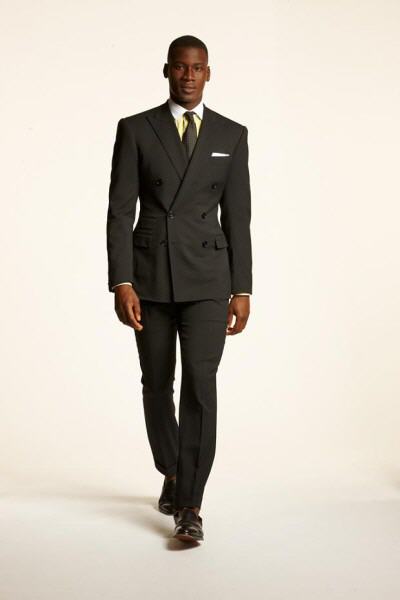 Another one from the world of Ralph Lauren. Notice the perfect proportions, especially the waist.  Ralph's got you covered.
(DB suit)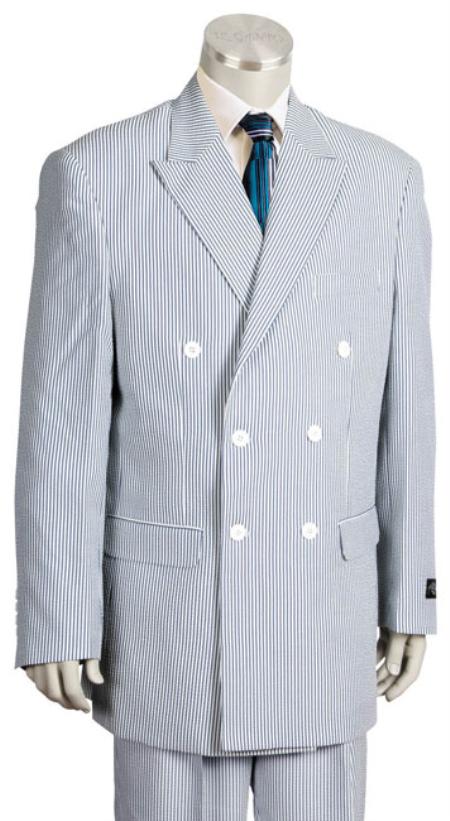 Find ease, comfort and style in the DB seersucker suit. Can we say cool?
DB Suit